Books are one of the best things that have ever happened to humanity. Each of us has come across many books in our life. Some books leave a profound impact on us.
It can be a storybook, comic, novel, journal, or anything else. The truth is that there's a book lover in each one of us. All we need to do that one powerful book, and it will change your life.
Gone are the days when people issue books from the public library or buy textbooks for personal use. Life has become hectic now, and people do not have the time to carry an extra book. So, there came the need to find something more practical, and hence E-readers came into existence. As a result, you can now have your favorite books with you wherever you want.
Just pick a book that you want to read, and you are ready to go. Here's more good news for all the avid readers out there. Today, we are introducing the eight best Amazon Kindle Alternatives for you guys.
Best Kindle Alternative
Nook tablet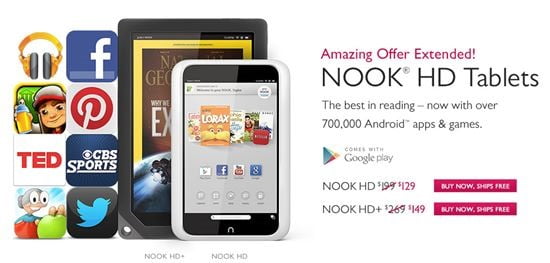 The very first tablet that has made it to our list is the new Nook tablet from Barnes & Noble. This great tablet is perfect beyond imagination, and it gives you the once-in-a-lifetime opportunity of reading your books in high definition (HD).
All you need to do is download your favorite book into this fantastic Kindle alternative, and you are ready to go. This tablet has got a lot of great reviews from critics.
It is an affordable 7 inch slate from Barnes & Noble. The new and improved solid software is another remarkable feature of this slate designed especially for the readers. – Nook HD Tablets
Sony Reader Wi-Fi
The second alternative apps for Kindle that has made it to our list is the Sony Reader Wi-Fi. This excellent E-book reader from Sony is one of a kind product that is surely an impressive option for all these readers in three different colors, i.e., black, white, and pink. Moreover, Sony Reader will give you the feeling of reading from your very own personal library.
It offers perfect page-turning options for convenience and provides suggestions based on your previous choices as well. As a result, there is no longer the need to stand in queues to buy your favorite book.
Download it onto your reader, and you are ready to go. You can also share your reading experiences and updates with your loved ones on Facebook and Twitter. – Sony Reader
Kobo Touch
Kobo Touch is the best Kindle Alternatives app that will brighten your whole reading experience, no matter what you are reading.
It can be your favorite novel or the latest edition of any magazine. Kobo eReader Touch is also equipped with a 6 inch Pearl E ink touch screen, which gives the print-on-paper experience.
Every word appears crisp and sharp due to this E ink technology being used in it. Once you have this in your hand, no distraction in the world can stop you from having that fantastic reading experience. – Kobo Touch
Jet Book Color 2 from Ectaco
The Jet Book eReader is a must-have for all the avid readers out there. So be it, students and teachers, anyone who loves reading should have their hands on this reader.
This excellent reader is one of the best options to invest in to save the extra money you spend on buying your favorite books. What makes these tablets more desirable is that they are the first tablets in the world that use eye-friendly color ink technology.
That is the first-ever tablet to be introduced which is solely dedicated to education and spreading knowledge. The home screen of this device also serves as an identity card for the students. They can now see the whole timetable of classes just with a single tap on this tablet. It is undoubtedly the best reader that has ever been designed for learning purposes.  – ECTACO jetBook Color 2
Aluratek Libre E-Book Reader Pro
This great tablet from Aluratek has proved to be the latest buzz in the digital reading world. Its launch came as a revolution in the world reader's tablet market.
It is now possible to store and carry thousands of your favorite books while on the go. That saves a lot of money as well as digital space. Another incredible feature of this reader is that it can easily connect to any computer system with an appropriate internet connection.
It means that now you can enjoy the latest released books and classics directly from your digital library. – LIBRE eBook Reader
Velocity Micro Cruz T301 Digital Reader
Here is another remarkable and affordable feature-rich tablet for all avid readers. It comes with an innovative and refined design, which is worth investing in.
This tablet has got an Ultra Responsive Capacitive touch screen and a dual-core processor. Further, the Android 2.2 operating system allows you to navigate through your digital book library easily. This tablet will enable you to read your favorite books from the largest ever collection of books in the Kindle book store.
You can also install the latest applications onto your tablet with just a single tap. – Cruz T301 Digital Reader
Iriver Story HD – Best Kindle Alternative
Here are the best Kindle alternatives that provide a whole new comfort and ease for the readers. It comes with an HD screen with XGA (768 * 1024) 6 Inch screen display.
Reading books in HD was never this fun before. Moreover, the 6 inch E ink further boosts the reading experience. This tablet is one of the best to be introduced in this category.
Crisp and sharp image quality is another feature of this tablet. It is a very slim and lightweight reader that comes with an easy-to-use QWERTY keyboard. – iriver Story HD
PocketBook A7 – Best Kindle Alternative
This device runs on the Android platform and supports Gingerbread version 2.3.7. this tablet stands ahead of others in this category i: the original interface, personalized library, and a work desk video player.
It is more than just a simple e-book reader slate. It is a multi-functional tablet that can be used to record videos, play music, etc. This device also has a RAM capacity of 512 MB. The multi-sensor display speed adds to maximizes the comfort of the readers. – PocketBook A7