College students are no doubt the most promising users of apps these days. Especially when it comes to high-end iOS apps.
There are a lot of apps out there in iTunes which college students can use in their daily routines.
In my recent research for finding the Best iPad Apps for College Students, I came across some of the best apps which students can use in their daily routine. I have listed some of the Best iPad Apps for College Students.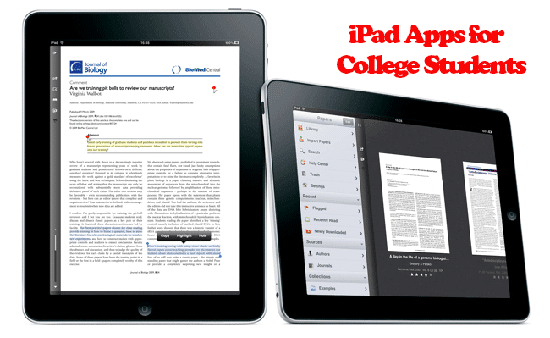 Best iPad Apps for College Students
IA Writer
IA Writer is a paid yet cheap productive app for College Student. Write your thoughts not on a piece of paper but on your iPad where you can keep it safe.
IA Writer comes with Focus mode which helps you to focus on three lines only. Sync your documents with the iPad, iPhone, and MAC.
You also upload your written documents on cloud websites like iCloud and Dropbox. .TXT and.MD is the formats that are compatible with this app and it also supports "UTF-8" encoding. – iA Writer
Pear Note
The next productive app which makes our list is Pear Note which you can use to record your lectures, seminars.
Whatever you record or type in this app will automatically be converted into audio. you can move anywhere at the time of recording by just tapping onto the text.
You can use different types of writing styles, bullets for a better understanding of your documents.
Use the background recording features to keep recording all your notes in the background if you switch to another app at the same time. – Pear Note
OmniOutliner
OmniOutliner is a paid app which most of the college students can use for their daily routine.
Write your notes, to-do list, and many more using this one single app. In a way this app will help you in maintaining the list of your daily routine.
The keyboard which comes with the OmniOutliner app is just great and will help you in doing your data entry processes at a faster rate.
If you want to send documents to your friends you can directly email them using OmniOutliner app. – OmniOutliner
Quickoffice Pro HD
iPad is not only used by college students for completing their notes but is also used by many writers. Sometimes you need a complete solution for your documents.
You can definitely get different apps for different document types but getting them in one would be just great. Quickoffice Pro HD is a No.1 office editing suite for iPad.
Users can easily edit any Microsoft office documents, spreadsheets, and presentation formats, as well as view PDF files, on the go with Quickoffice Pro HD. – Quickoffice Pro HD for iPad
Pages
Pages is an iPad app that is officially developed by Apple. It is one of the best and most attractive document solutions for the iPad.
Create new documents edit them and also view them anywhere using Pages. Sync your documents using iCloud so that you can access them from anywhere and from any device.
You can create attractive letters, cards, reports, and flyers using the inbuilt templates. Add different colors, font, and size to your writing to make them much more attractive. – Pages for iPad
Penultimate
Penultimate by Evernote is used by most professional writers but it is also a useful iPad app for College Student. Use different ink colors to make your documents impressive.
Penultimate has three different types of paper styles to choose One of them. Just try the pen provided by Penultimate app once and you will never use your normal pen again.
Each document you create is automatically saved in your Evernote account. You can create as many documents/notebooks using Penultimate.
Penultimate is available for free but you can also upgrade it to the premium version for more advanced features. – Penultimate
To-do For iPad
The first award-winning app which serves the purpose of iOS task manager is Todo. Add your daily routine using the To-Do list. This app is listed in the "Top 10 Productive iPad Apps".
Todo is very useful for college students as it helps in managing their daily work and also helps in completing their assignments, projects in the deadline.
Todo automatically syncs your documents with Microsoft Outlook, iCloud, Dropbox accounts which gives you the option to access your data from anywhere.
Get upgraded to the Pro version for more advanced features like adding of tasks using Siri, Advanced synchronization, etc. – Todo for iPad
Blackboard Mobile
There are many schools and colleges which provide Blackboard Mobile for analyzing the learning of students.
Add courses that you have opted for in your college and you will get push notifications on your iPad. Keep a check on your grades and see if they are getting any improvement or not.
Use dropbox to attach your documents, notes, and send those documents to your friends. Blackboard Mobile also has some inbuilt test papers for some subjects which will help you in improving you in your subjects.
You can also get the paid version of the app by spending $1.99 per year.  – Blackboard Mobile
iAnnotate PDF
We have discussed a lot of word document processors but what about a PDF processor. iAnnotate PDF is one of the best PDF readers, editors which college students should use on their iPad.
Not only you can use it for accessing your PDF files but can also share PPT presentations, images with your friends.
Multitasking is very easy in iAnnotate as you can easily open more than one document. Use the tabbed reading feature by navigating between two documents. – iAnnotate PDF
iStudiez Pro
The last app which makes our list is iStudiez Pro. Manage your schedule and organize your entire day with the help of iStudiez Pro.
Using this app there won't be any event which you would have missed. There is a special section in this app that will help you to keep track of your homework assignments.
iStudiez Pro comes with a CGPA calculator which will help to keep track of your grades and will also help you to improve them.
Use the alarm feature and get alerted for your tests, classes. You can also backup your entire data on your email id using iStudiez Pro app. – iStudiez Pro